"I don't know how much revenue this page is generating", "My clicks don't match with Google Analytics", "I can only optimize my website based on the number of clicks I'm getting" – if you're an iGaming affiliate, you might be all too familiar with these phrases. Routy was built to answer these types of questions.
Routy is the BI platform that gives affiliates a full view of their data – from page view to revenue. Worrying about marketing sources, and basing campaign performance on clicks only will become a thing of the past. I've listed 5 tips below for our current and prospective users, on how to get the most out of Routy.
---
1) Use the Dashboard to track your performance at a high level and get a better understanding of your traffic sources
The Dashboard view is your 'Operational Dashboard' view. It is designed to help you track day to day performance, and should be the first screen you look at when you start your day. The Dashboard tells you how the month has been going so far, and if you've had any changes in your traffic, conversions or income.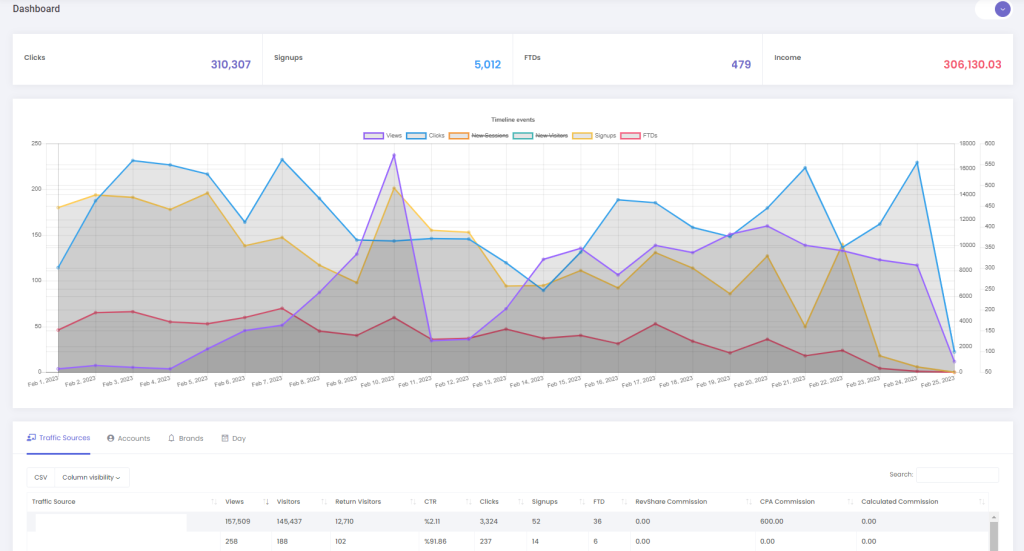 You can also use it to get a basic understanding of how various metrics (including conversion rates) vary across your traffic sources and brand/account.
Note: Use the traffic source dashboard to monitor your website or campaign performance and (if it's a website) view which pages are driving your business. To do this, press the relevant traffic source and you'll be taken to the page.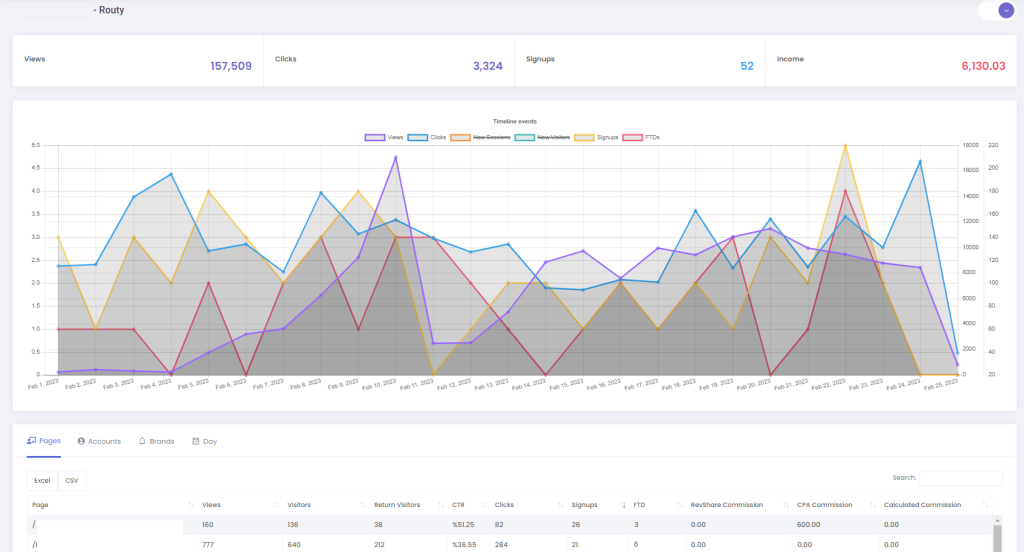 For example, a client of Routy used this dashboard to identify which pages they should focus on their efforts on, and identify which content is working.
2) Use the Performance Report to find where your traffic is going
The Performance Report is a tactical dashboard that provides a deep breakdown of clicks on your traffic sources. Use this report to get a better understanding of your clicks and what's driving them. Some typical questions you may ask as an affiliate:
Which markets are driving my conversions?

Are there specific sections on my site performing better than others?

Which brands are working best on which of my traffic sources?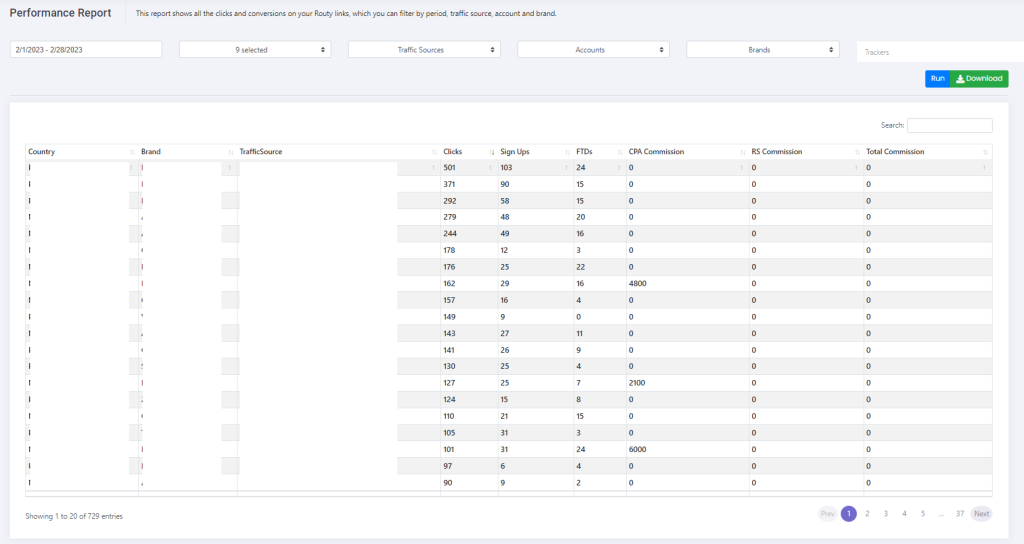 Note: This only shows data on Routy link clicks
3) Use the Conversion Report to understand your revenues
The Conversion Report is also a tactical dashboard, this time that provides a breakdown of your conversions. As a data analyst at heart – this is my favourite report on Routy. This report is a gem which finally connects your conversions/revenues to your traffic. Affiliates can get a huge amount of insights from this report specifically.
Use this report to find which players (clicks) are driving your revenues. Some typical questions you can answer with this report:
How many players (clicks) are driving my revenue?

What's my average player value?

How long does it take for a user to convert from the time of clicking?

Is my current traffic driving value?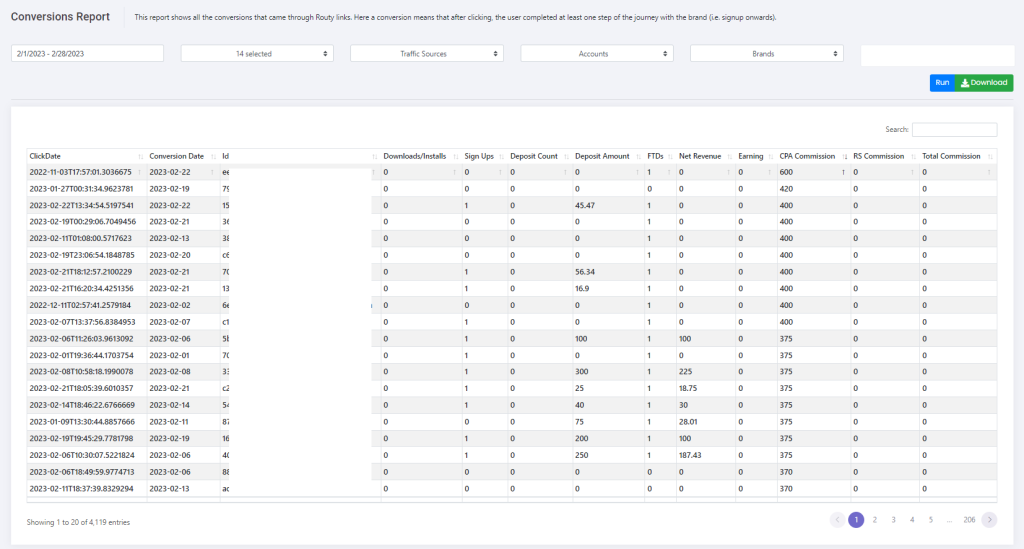 A typical use case where this report showed its value was when a Routy client wanted to understand the value of current traffic they were sending to brands. Before using Routy they had no idea what the traffic value was, and made decisions blindly. With Routy they were able to understand which brands were generating the highest values and focused on maximizing them. In addition, they worked with the other lower value generating brands to find ways they could optimize this.
Note: This only shows data on Routy link clicks
4) Use Parameters A and B to find which buttons and widgets are driving revenue
This was already kind of mentioned in point 2, but when creating a Routy link (the link that takes users to the brand you're promoting), you'll notice that you're able to append two parameters. With these parameters, you're able (but not limited) to monitor which widget/site section your users are clicking. To learn how to set this up, follow our documentation here.
The parameters will then be shown in both the Performance and Conversion reports and will allow you to optimize and deep-dive your sites at a 'widget level'.
5) Use Postback Tracking to get real-time notifications about conversions
Postback tracking is supported by Routy for a multitude of reasons – it helps us provide data to the user from softwares we don't cover, as well as softwares that don't exist. However, it can also be used to give you instant feedback that a conversion happened. This is obviously very different to the typical 24-48 hours affiliates would need to wait, and gives you a massive advantage in knowing how campaigns are performing in (near) real-time. To set up postback tracking on an account, you can follow this guide (IMP: postback tracking must be supported by the operator).
---
Those were just 5 ways on how your affiliate business can get the most out of Routy. Remember, as an affiliate, you have the power to take these data points to the brands you're partnered with to truly optimize your partnerships, in ways that just weren't possible before. The brands will love you for it, and your business will too.
---
If you're interested in leveling up, go ahead and sign up. If you'd rather have a demo first, get in touch on LinkedIn, or our Contact page!
---